Canterbury Children's Orthodontics
Fine Dentistry Smile Intervention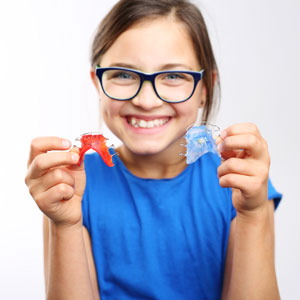 When a child is just 7 years of age, it's possible for us to see a glimpse of what their smile and oral anatomy will look like when they get older. At this stage of a mixed dentition between adult and baby teeth, we can pinpoint issues that specifically contribute to bite misalignment.
Through early intervention, our dentists are able to address specific anatomical concerns to facilitate proper oral development as your child ages.
Some of the things we may need to look into include issues such as
Premature tooth loss, contributing to problems with teeth erupting in proper formation
Oral habits such as thumb or finger sucking
Tongue thrusting
Genetic factors that may play a part in jaw development
Open bites that lead to problems with speech patterns or diet
Severe crowding (a risk factor for decay and enamel wear)
What Is Early Orthodontic Intervention?
Rather than waiting for your child's jaws and teeth to completely form, we can take noninvasive steps that facilitate a healthier bite development leading to proper tooth and bite alignment.
Through the use of aids such as space maintainers, expanders and other orthodontic appliances, these adjustments can be made at a younger age while the adult teeth are still developing and falling into place.
Braces are also available to adjust tooth positioning in different phases, altering your child's overall alignment at a young age and then fine-tuning it when he or she is a teen.
Experts recommend that all children receive an orthodontic evaluation by age 7, with continual observation throughout the development of their smile. If interception is necessary, we can complete it right here in our office.
Get Your Child An Appointment Today
Is it time for your child to see an orthodontist? Has your child been asking about braces? Schedule a consultation at our family practice to book an orthodontic screening.
CONTACT US »

Children's Orthodontics Canterbury, Surrey Hills,
Deepdene VIC | 03 9888 6665