Your Canterbury Dental Implant Provider
Smile Rehabilitation at Fine Dentistry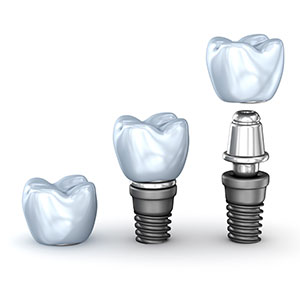 Dental implants provide the most lifelike, natural design when it comes to replacing missing teeth. Each biocompatible unit acts as an artificial tooth root, set into the jaw and strong enough to support restorations ranging from single ceramic crowns to multi-tooth bridges and dentures.
We believe that implants offer the highest standard of care when it comes to smile rehabilitation and addressing tooth loss.
The Dental Implant Design
Every dental implant is designed in a way to encourage rapid healing and new bone growth around it, fusing the prosthesis within the jaw (a process we call osseointegration). After the small surgical site has properly healed, an abutment is attached to the top of the implant, which is the base onto which the fixed restoration is set.
With implants, you can replace a single tooth so that it looks as if your smile is completely whole again. Or, they can be used in pairs for longer dental bridges instead of having to wear a partial denture.
Dental implants
Enhance the bone health and quality of the jaw
Preserve natural tooth spacing and bite alignment
Are ideal for replacing single or multiple teeth
Offer extremely predictable results
Are the longest lasting restoration used in modern dentistry
Provide extensive support, making them generally stronger than natural teeth
What to Expect
Getting dental implants involves a minor surgical procedure that is more straightforward than what it seems like. Most people consider the implant process to be easier than having a tooth removed. During the placement, the area is completely numbed to prevent any discomfort.
As we allow the bone to integrate with your new implant, we wait at least a few months to ensure it has taken properly. Finally, the top of the implant is uncovered, and an abutment is set into it, then impressions are taken to customise the new crown, bridge or denture that is to be set into place. When the new restoration is ready, it is cemented to the abutment, leaving your smile looking and feeling good as new.
Are Implants Right For You?
Schedule a consultation to find out if you're a candidate for this state-of-the-art treatment!
CONTACT US »

Dental Implants Canterbury, Surrey Hills,
Deepdene VIC | 03 9888 6665