Canterbury Denture Design
Get Your Smile Back at Fine Dentistry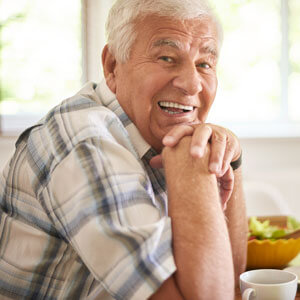 Dentures are a tried-and-true solution for affordable tooth replacement. Whether you have just a few missing teeth or need to restore all of them at one time, a cost-effective full or partial denture is one of the best options to consider.
A Balance of Quality and Aesthetics
When you need to replace missing teeth, you depend on a denture that fits comfortably and meets your aesthetic standards. Our customised prostheses are designed from high-quality acrylic or metal bases with materials made to look like a natural smile.
A full denture or "plate" replaces all of the teeth in an arch (upper or lower jaw) and rests directly on your gum tissues whereas a partial denture clasps into place around existing teeth that you've been able to retain.
Implant-Supported Denture Options
Newer denture designs can be modified to affix to dental implants, securing the prosthesis for all-day stability. Depending on your bone health and type of denture we fit you with, the implant-supported restoration can be removable or permanently attached in place.
Not only are implant-supported and conventional overdentures more reliable for talking and eating with, they're also beneficial in that they delay bone loss and help to preserve your facial profile.
Confidential Care for Your Long-Term Smile
You depend on a healthy set of teeth to maintain a balanced diet, interact in social situations and make a great first impression. But missing ones can lead to problems like embarrassment, loss of self-esteem and an overall change in your bite alignment. Being able to replace them with a high-quality, customised treatment is the best way to avoid such concerns.
Get The Smile You Deserve
If you're looking for an efficient and predictable way to replace all of your missing teeth, ask us if a denture is right for you! Schedule an appointment today; we're even open on Saturdays.
CONTACT US »

Dentures Canterbury, Surrey Hills,
Deepdene VIC | 03 9888 6665