Canterbury Pain-Free Dentistry
Get Gentle Care at Fine Dentistry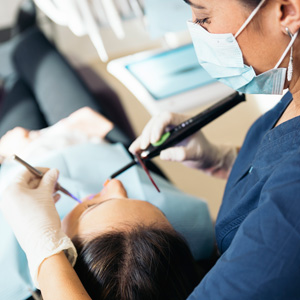 Dental anxiety and phobia are very real. From feeling slightly nervous about discomfort during treatment to delaying your care altogether, you're not alone. Our gentle team works hard to create a positive, relaxed environment where you can enjoy great oral health care without being afraid.
Many people avoid seeing the dentist because of dental anxiety. Unfortunately, this situation can lead to specific issues evolving into more complex problems. Rather than accessing prevention-focused care, they find themselves needing extensive treatment.
We make it our goal to change that.
An Easy Way to Relax
Nitrous oxide sedation (also known as "laughing gas") is a safe, gentle and effective way to calm your nerves and reduce discomfort. The odourless gas is breathed in through a soft nosepiece for the duration of your procedure and quickly reverses the effects once we place you back on 100% pure oxygen. In fact, you can drive yourself home afterwards with no lingering side-effects.
Because of the analgesic benefits of nitrous, you will find it much easier to relax throughout basic treatments such as fillings, root canals or scale and cleans. Even the numbing process is more comfortable.
How Can We Help?
The best way to manage dental anxiety is to communicate with us. Let us know if there are specific concerns or worries that you have or previous situations that have contributed to your fear of the dentist. Understanding where you come from allows us to accommodate those issues in a proactive manner.
Prevention-Focused Care for Fewer Treatments
After helping you establish optimal dental health, our goal is to switch to prevention- focused care. This approach allows you to maintain your current level of dental wellness and prevent additional problems in the future. If conditions do pop up, we can address them when they are smaller and easier to treat.
Lear More About Gentle Dentistry
Learn more about the gentle techniques and fear-free dental services that we have to offer. Book your consultation today! We're happy to assist you.
CONTACT US »

Pain-Free Dentistry Canterbury, Surrey Hills,
Deepdene VIC | 03 9888 6665